video
Interview with Richard Schechner
Richard Schechner 1934- interviewee. and Diana Taylor 1950- interviewer.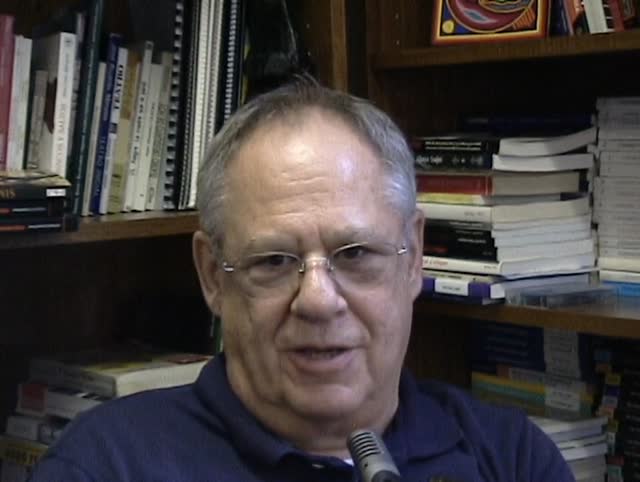 Title
Interview with Richard Schechner
Author/Creator
Richard Schechner 1934- interviewee. and Diana Taylor 1950- interviewer.
Description
streaming video (12 min., 9 sec.) : sound, color
Notes
Summary: Interview with Richard Schechner, conducted by Diana Taylor, founding director of the Hemispheric Institute of Performance and Politics. This interview is a part of a series curated by the Hemispheric Institute, articulated around the question 'What is Performance Studies?' The series aims to provide a multifaceted approach to the often difficult task of defining the coordinates of both a field of academic study as well as a lens through which to assess and document cultural practice and embodied behavior. The contingent definitions documented in this series are based on the groundbreaking experiences and the scholarly endeavors of renowned figures in contemporary performance studies and practice.
Summary: Richard Schechner is a theater director, performance theorist and university professor known for being one of the founders of the academic discipline of Performance Studies at Tisch School of the Arts, New York University. Schechner combines his work in anthropology with innovative approaches to performance of all kinds, including ritual, drama, environmental theater, political rallies, dance, music, etc. in order to consider how performance can be understood not just as an object of study, but also as an active intellectual-artistic practice. He is the editor of TDR: The Journal of Performance Studies. His books include 'EnvironmentalTheater, ' 'The Future of Ritual, ' 'Performance Theory, ' 'Between Theater and Anthropology, ' 'Performance Studies: An Introduction, ' and 'Over, Under, and Around.' Currently he is working on two books: 'Ramlila of Ramnagar' and 'After the Avantgarde.' As of 2008, his books have been translated into 14 languages. Schechner has been a National Endowment for the Humanities senior research fellow, a Smithsonian Institution research fellow, a Fulbright senior research fellow and a Guggenheim fellow, among other honors. He is also renowned for founding The Performance Group, and is currently the artistic director of East Coast Artists. He has directed plays, lectured, and conducted performance workshops in Asia, South Africa, Latin America, and Europe. Schechner is an honorary professor of the Shanghai Theatre Academy where he leads the Richard Schechner Center.
Credits: Hemispheric Institute of Performance and Politics, producer.
Credits: Richard Schechner, interviewee ; Diana Taylor, interviewer.