video
Adiós Ayacucho.
Miguel Rubio, Augusto Casafranca, Ana Correa, Julio Ortega 1942- and Grupo Cultural Yuyachkani.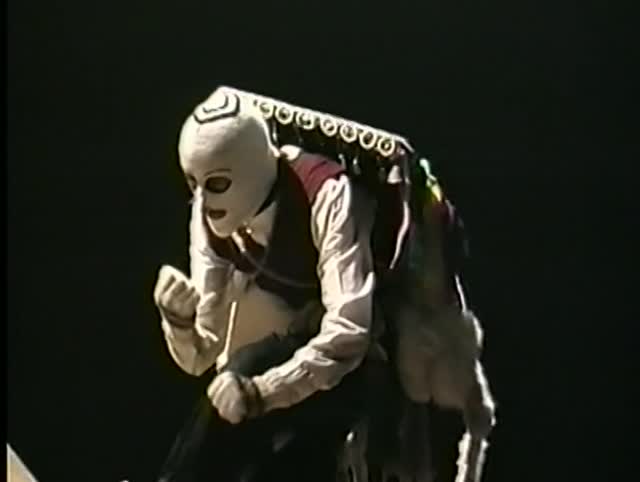 Author/Creator
Miguel Rubio, Augusto Casafranca, Ana Correa, Julio Ortega 1942- and Grupo Cultural Yuyachkani.
Restrictions/Permissions
Access is open to all web users, Copyright holder:Grupo Cultural Yuyachkani, Contact information:Teresa Ralli, Casa Yuyachkani, Attn. Teresa Ralli, Tacna 363, Magdalena del Mar, Lima, Perú 17, +51-1-263-4484 (business), +51-1-263-0505 (fax), yuyachkani@yuyachkani.org, http://www.yuyachkani.org
Description
1 online resource (1 video file of 1 (digital Betacam) (41 min.)) : sound, color.; 1 online resource (1 video file of 1 (video file) (41 min.)) : sound, color.
Notes
Summary: Video documentation of Grupo Cultural Yuyachkanis theater piece Adiós Ayacucho (Farewell Ayacucho), adapted by Miguel Rubio Zapata from the eponymous tale by Peruvian writer Julio Ortega and performed by Augusto Casafranca with music by Ana Correa. Adiós Ayacucho tells the story of Alfonso Cánepa, a farmworker leader from the Southern Peruvian Andes, disappeared and killed during the 1980s, who returns from the netherworld and begins a journey to Lima, the capital city, looking for his bones so that he could rest in peace. Cánepa befriends a Qolla (a comic Andean dancer), who lends him his body and his voice so that he could tell his story. The play is performed around a platform that supports pieces of clothing, according to the Andean custom that lays them in wake, eight days after the death of a relative, as a final farewell ritual. During the years of political terror of Perus Dirty War this ritual has been transformed as the only way to bid farewell to the souls of the departed when their bodies have been disappeared by the military. Perus most important theatre collective, Grupo Cultural Yuyachkani (www.yuyachkani.org) has been working since 1971 at the forefront of theatrical experimentation, political performance, and collective creation. Yuyachkani is a Quechua word that means I am thinking, I am remembering; under this name, the theatre group has devoted itself to the collective exploration of embodied social memory, particularly in relation to questions of ethnicity, violence, and memory in Peru. The group is comprised of seven actors (Augusto Casafranca, Amiel Cayo, Ana Correa, Débora Correa, Rebeca Ralli, Teresa Ralli, and
Summary: Julián Vargas), a technical designer (Fidel Melquíades), and an artistic director (Miguel Rubio), who have made a commitment to collective creation as a mode of theatrical production and to group theater as a life style. Their work has been among the most important in Latin Americas so called New Popular Theater, with a strong commitment to grass-roots community issues, mobilization, and advocacy. Yuyachkani won Perus National Human Rights Award in 2000. Known for its creative embrace of both indigenous performance forms as well as cosmopolitan theatrical forms, Yuyachkani offers insight into Peruvian and Latin American theatre, and to broader issues of postcolonial social aesthetics.
Credits: Miguel Rubio, director, adaptation ; Grupo Cultural Yuyachkani, producer ; based on the eponymous story by Julio Ortega.
Credits: Ana Correa, musician.
Credits: Augusto Casafranca.