video
La Chinga (promo reel) [videorecording].
Jesusa Rodríguez, Liliana Felipe, Andrés Loewe, Flor Eduarda Gurrola, Diego Jáuregui, Sheila Goloborotko, Tito Vasconcelos, Bibiana Goday and La Chinga (Theater group)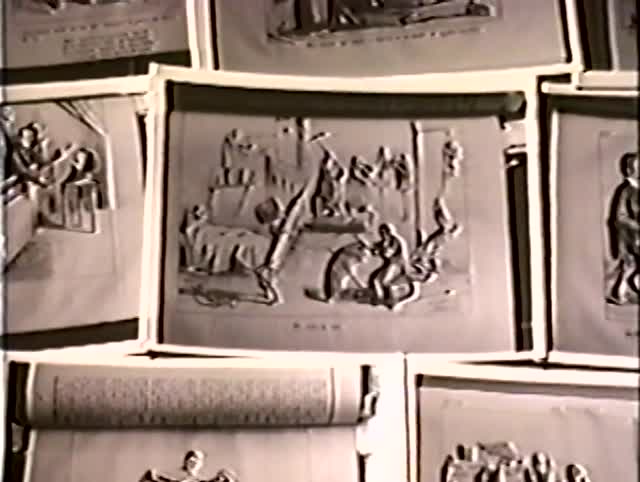 Title
La Chinga (promo reel) [videorecording].
Author/Creator
Jesusa Rodríguez, Liliana Felipe, Andrés Loewe, Flor Eduarda Gurrola, Diego Jáuregui, Sheila Goloborotko, Tito Vasconcelos, Bibiana Goday and La Chinga (Theater group)
Restrictions/Permissions
Copyright holder:El Hábito, Contact information:Jesusa Rodríguez and Liliana Felipe, Madrid 13, Coyoacán, México D.F., 04100, resistenciacreativa@gmail.com, http://www.elhabito.com.mx/
Description
1 videodisc of 1 (DVD) (12 min.) : sd., col. ; 4 3/4 in.; 1 videocassette of 1 (Digital Betacam) (12 min.) : sd., col. ; 1/2 in.
Notes
Summary: La Chinga is a Mexican theater company devoted to the development of an itinerant, populist, inclusive, journalistic street performance ensemble. It intends to explore, recuperate and document the corporeal, vocal and musical characteristics of Mexico's popular archetypes present in the collective imagery and rooted in the tradition of satiric lithography as developed at the end of the XIX century by artists like José María Villasana, Daniel Cabrera, José Guadalupe Posada and Constantino Escalante, among others. The result, a sorts of Mexican Commedia dell'Arte -with improvisational twists and turns aiming to evidence vices in social conduct- is less an archaeological 'reconstruction' than a humorous, satiric reenactment and actualization of these archetypes in the context of current sociopolitical events in the public sphere. Some archetypical characters -depicted in masks created by Sheila Goloborotko- are: 'El Hijo del Ahuizote' (the persecuted and censored journalist), 'Doña Caralampia Mondongo' (the spirit of criticism), 'Don Catrín de la Fachenda' (the pretentious deceiver), 'La Jamona' (the socialite old maid, stalker of young men), 'El Dictador' (the figure of power and authoritarism), 'El Padre Cobos' (the anticlericalist), 'El Maromero' (the exploitative politician who, no matter what, is always back on his feet), 'El Lépero' (the eternal underdog, the moral contagium), 'El Pulque' (the folkloric embodiment of inspiration), 'El Pelado' (the builder of the nation), 'La China' (the brave townswoman), and 'El Cuico' (the roguish policeman). The cast is conformed by Liliana Felipe, Bibiana Goday, Flor Eduarda Gurrola, Diego Jáuregui, Clarissa Malheiros, Andrés Loewe, Diego Luna, Tito Vasconcelos, and Jesusa Rodríguez. This documentary video is a sorts of presentational, introductory manifesto of the La Chinga project. Mexican
Summary: director, actress, playwright, performance artist, scenographer, entrepreneur, and social activist Jesusa Rodríguez has been called the most important woman of Mexico. Often referred to as a chameleon, Rodríguez moves seemingly effortlessly and with vigor across the spectrum of cultural forms, styles, and tones. Her espectáculos (as both spectacles and shows) challenge traditional classification, crossing with ease generic boundaries: from elite to popular to mass, from Greek tragedy to cabaret, from pre-Columbian indigenous to opera, from revue, sketch and carpa, to performative acts within political projects. Humor, satire, linguistic play, and the body are constants in her productions. She seeks to render corporal and, thus, visible, the tensions between the discourses in operation on and through the individual and collective body. Rodriguez's energy is intense and her commitment non-negotiable, always interrogating the nature, site, and consequences of power and its representation. Liliana Felipe, one of Latin America's foremost singers and composers, was born in Argentina in the 1950s. She left for Mexico just before the outbreak of the 'Dirty War' (1976), but her sister and brother-in-law were both 'disappeared'--victims of the military dictatorship's criminal politics. Liliana's music has a wide following in Latin America. She continues to be a powerful presence in Argentina, working with human rights organizations--especially H.I.J.O.S. (the organization of the children of the disappeared). In Mexico, Liliana went to one of Jesusa Rodríguez's performances. Jesusa, catching a glimpse of Felipe in the audience, remembers saying to herself: I am going to die with that woman. Since then, Liliana and Jesusa have created two performance spaces, El Cuervo and later El Hábito in Coyoacán, Mexico City, that they still run. They 'married'
Summary: in February 2000. El Hábito (www.elhabito.com.mx) is a hotbed for intellectuals, feminists, gay rights activists and open-minded, progressive people who want to be engaged by a smart and critical humor. In this off-off space, and with the collaboration of their theater cooperative Las Divas, Jesusa y Liliana have produced hundreds of shows since the 1980s.
Credits: Jesusa Rodríguez, producer, writer, director ; Liliana Felipe, producer, musical director ; Sheila Goloborotko, mask maker.
Credits: Jesusa Rodríguez; Tito Vasconcelos; Diego Luna; Clarissa Malheiros; Diego Jáuregui; Andrés Loewe; Flor Eduarda Gurrola; Bibiana Goday; Liliana Felipe.