video
La fanesca [videorecording] : Entrevista a Charo Francés.
Charo Francés and Malayerba (Theater company)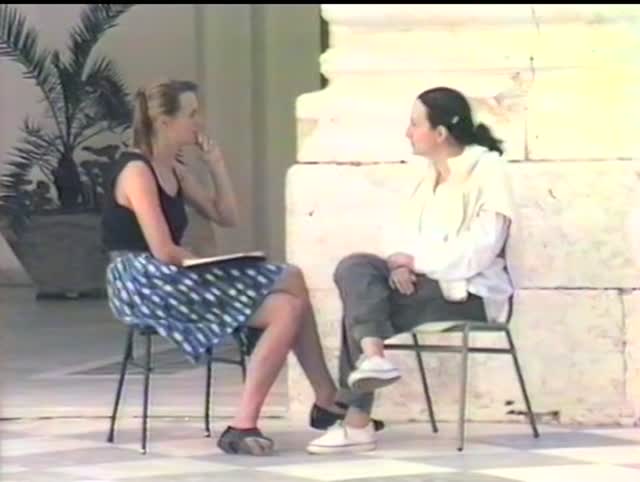 Title
La fanesca [videorecording] : Entrevista a Charo Francés.
Author/Creator
Charo Francés and Malayerba (Theater company)
Restrictions/Permissions
Copyright holder:Grupo de Teatro Malayerba, Contact information:Arístides Vargas, Sodiro 345 y 6 de Diciembre (junto a la Iglesia del Belén, sector Alameda), Quito, Ecuador, +593-02-223-5463 (business), +593-02-223-5463 (fax), teatromalayerba@gmail.com, http://www.teatromalayerba.com
Description
1 videodisc of 1 (DVD) (23 min.) : sd., col. ; 4 3/4 in.; 1 videocassette of 1 (Digital Betacam) (23 min.) : sd., col. ; 1/2 in.
Notes
Summary: Interview with Spaniard actress and Malayerba founding member María del Rosario 'Charo' Francés, in the context of their play 'La Fanesca' performed at the Festival Iberoamericano de Teatro (FIT) de Cádiz, held in Spain in 1987. In this interview, Charo talks about the origins and creative process of 'La Fanesca,' as well as the history of the Malayerba theater group. The actress also comments on the reception of the play by Latin American audiences and on the experience of performing this play in Europe in the context of the Festival. Francés discusses issues of collective creation and political and artistic investigation at the Malayerba, as well as the role migration and exile have played in the life of the group, both as a concrete life experience for the actors and as a topic for their interventions in Ecuadorian theater and society. The actress illustrates these topics through her impressions of being a Spaniard exiled in Quito, doing Ecuadorian theater that is, in turn, performed in Spain. This interview is invaluable documentation of the early stages of this renowned theater group, one of the most important theater ensembles and actor laboratories in Latin America. The Grupo de Teatro Malayerba (teatromalayerba.org) was founded in Quito in 1979 by Arístides Vargas, Susana Pautasso and María del Rosario 'Charo' Francés, immigrant actors originally from Argentina and Spain. From the start, Malayerba included actors with various backgrounds and nationalities, invested in the exploration of the rich cultural diversity and complex history of Ecuador, as well as issues of migration, exile, political violence and individual and collective memory. With over 25 years of ongoing theater practice and more than 20 plays performed locally and internationally for a diverse audience, Malayerba is committed to theater pedagogy and experimentation, artistic
Summary: collaboration, and community building. They have represented Ecuador in national and international theater festivals; they have also collaborated with theater groups within Ecuador and in other countries, and performed for both film and television, while engaging in community work in Quito. In 1989 the group created the Laboratorio Malayerba, committed to the training of generations of young Ecuadorian actors and to an ongoing investigation of theories and practices of experimental theater. In 2001 Malayerba launched the theater journal 'Hoja de Teatro,' conceived as a forum for the theorization, criticism and dissemination of Ecuadorian theater practices. The group also runs a theater house, the Casa Malayerba, which houses the Laboratory as well as a theater with seating capacity for seventy people. Malayerba approaches theater making as an artistic, ethical and technical realm where to engage in meaningful creative experiences through which to understand, assume and confront current sociopolitical processes. In working together, actors with various backgrounds and nationalities have shown that a multicultural blend is not only possible but also enriching, as differences lead to new identities, embodiments of dreams, memories, absences and pains that are at once local and universal.
Credits: Grupo de Teatro Malayerba, producer.
Credits: María del Rosario 'Charo' Francés, interviewee.