video
El bolero fue mi ruina [videorecording] = The bolero was my downfall.
Jorge B Merced, Rosalba Rolón, Desmar Guevara, Ricardo Pons and Pregones Theatre (New York, N.Y.)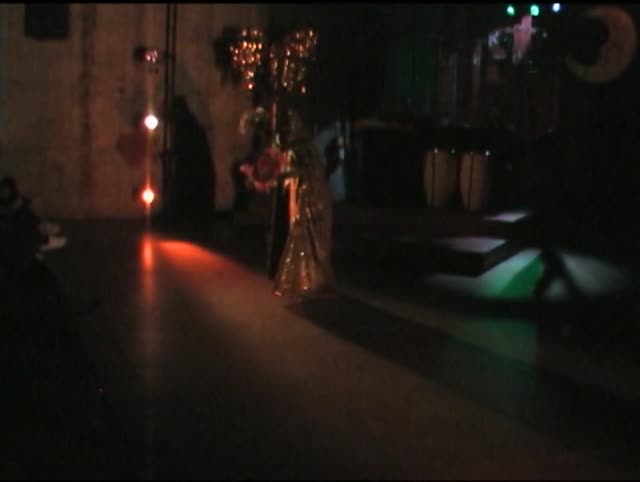 Title
El bolero fue mi ruina [videorecording] = The bolero was my downfall.
Author/Creator
Jorge B Merced, Rosalba Rolón, Desmar Guevara, Ricardo Pons and Pregones Theatre (New York, N.Y.)
Restrictions/Permissions
Copyright holder:Teatro Pregones, Contact information:Rosalba Rolón, 571-575 Walton Avenue, Bronx, NY 10451, USA, +1-718-585-1202 (business), +1-718-585-1608 (fax), info@pregones.org, http://www.pregones.org
Description
2 videodiscs of 2 (DVD) (67 min.: pt.1, 57 min. ; pt.2, 10 min.) : sd., col. ; 4 3/4 in.; 2 videocassettes of 2 (Digital Betacam) (67 min.) : sd., col. ; 1/2 in.
Notes
Summary: 'El bolero fue mi ruina' ('The Bolero Was My Downfall') is an acclaimed adaptation of Manuel Ramos Otero's 'Loca la de la locura.' The play's protagonist is an aging transvestite fulfilling the last days of a long prison sentence for murder. The production deploys the aesthetics of torch song and kitsch to convey a subtler message about love, abuse, and the relationship between perpetrator and victim. Since its premiere in 1997, 'El bolero' has been performed throughout the U.S., and in Puerto Rico, Peru, Mexico, and France. New sets and costumes were introduced for the Spring 2006 run at the New Pregones Theater. The performance is dedicated to all who continue to devote their life to advancing the struggles for equality, inclusion and justice, and most significantly, to the legacy of Silvia Rivera - a true crusader and pioneer of the Lesbian, Gay, Bisexual and Transgender civil rights movement in the US. Silvia was one of a group of drag queens who fought police during a raid on the Stonewall Inn on Christopher Street in 1969, an event that sparked the gay rights movement in NYC. She died on February 19, 2002, of liver cancer, at the age of 50. Founded in 1979 and based in The Bronx, New York City, Pregones Theater (http://www.pregones.org) has performed in more than 400 cities and 13 countries. The company enjoys citywide recognition for their lasting contributions to the performing arts field and are recipients of numerous distinctions including current Leading National Ensemble Theatre Designation from the Doris Duke Charitable Foundation and the Andrew W. Mellon Foundation, Primary Cultural Institution Designation from the New York State Council on the Arts, the New York State Governor's Arts Award, the Culture & Humanities Award from the Center for Puerto Rican Studies, numerous artist and production awards, as well as invitations to appear at
Summary: international festivals and events. Over the years Pregones has developed a style that combines theater, music and movement, oral and written traditions, and a signature urban sensibility. The ensemble draws from popular Puerto Rican artistic expressions and literature to create and stage its work. Today, Pregones has grown to be one of the leading Puerto Rican/Latino theater theaters in the United States. From migrations to indigenous mythologies to subway stories, the company's repertoire covers a growing sample of Latino experiences and identities.
Credits: Pregones Theater, producer ; based on the story 'Loca la de la locura' by Manuel Ramos Otero ; Jorge B. Merced with Rosalba Rolón, adaptation for the stage ; Rosalba Rolón, director ; Desmar Guevara, musical director ; Ricardo Pons, music ; Yanko Bakulic, sets ; Esteban Lima, lights ; Harry Nadal, costumes ; Jessica Moya, stage manager ; Flora Rodríguez, sound operator ; Roxanna Ricardo, titles operator.
Credits: Jorge B. Merced (protagonist) ; Desmar Guevara (musician), Jorge Castro (musician).