video
El bus de la fuga [videorecording].
Ana Correa, Fidel Melquíades, Miguel Piedra and Grupo Cultural Yuyachkani.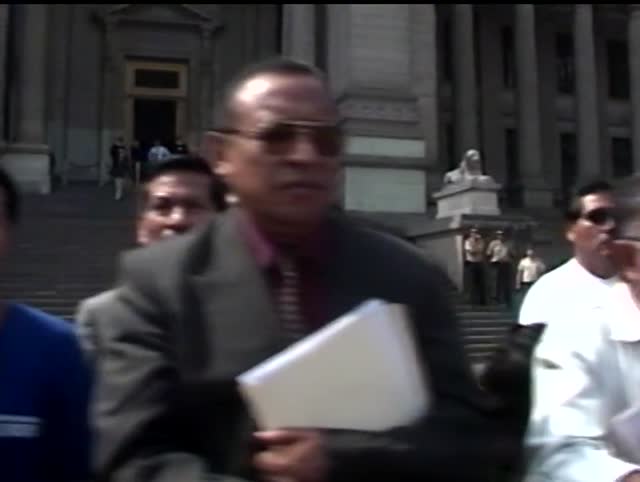 Title
El bus de la fuga [videorecording].
Author/Creator
Ana Correa, Fidel Melquíades, Miguel Piedra and Grupo Cultural Yuyachkani.
Restrictions/Permissions
Copyright holder:Grupo Cultural Yuyachkani, Contact information:Teresa Ralli, Casa Yuyachkani, Attn. Teresa Ralli, Tacna 363, Magdalena del Mar, Lima, Perú 17, +51-1-263-4484 (business), +51-1-263-0505 (fax), yuyachkani@yuyachkani.org, http://www.yuyachkani.org
Description
1 videocassette of 1 (Digital Betacam) (29 min.) : sd., col. ; 1/2 in.; 1 videodisc of 1 (DVD) (29 min.) : sd., col. ; 4 3/4 in.
Notes
Summary: Street action created by Grupo Cultural Yuyachkani in May 2002 and performed during the 'Semana Anticorrupción' (AntiCorruption week) in Lima, Peru. After the fall of the Fujimori Presidency in 2001, the extent of governmental corruption and its key players were being exposed, by means of documentation which demonstrated that members of Fujimori's Cabinet had accepted bribes, in addition to embezzling a great amount of money during his presidency. In this street action, members of Yuyachkani perform a critique to the abuses of power and the financial corruption that took place within Fujimori's government: the actors dance to the well-known 'El baile del Chino' (a 'tecnocumbia' song used by Fujimori for his third electoral campaign), wearing masks to represent some of these political figures, including Fujimori, Montesinos, the Mayor, the Minister, a Congresswoman, a representative of Judicial Power, the Assessor, Owners of Mass-Communication, the Military and the Grupo Colina (a paramilitary group). The group toured around Lima in a small bus which they called 'El Bus de la Fuga' ('Escape Bus'), from Barrios Altos (a neighborhood that suffered the murder to some of its residents) to La Cantuta (where a number of students were murdered) to Tokyo (where President Fujimori fled to exile). The route covered both affluent and impoverished neighborhoods of Peru's capital city -including the Palacio de Justicia, the Distrito de Comas, the Parque Universitario, the Universidad Nacional de Educación, Ate-Vitarte, Villa el Salvador, and Miraflores- eliciting the most varied reactions depending on where the street action was performed. Some of these street audience reactions, along with footage of the performance, are documented in this video created by Miguel Piedra. Peru's most important theater collective, Grupo Cultural Yuyachkani
Summary: (www.yuyachkani.org) has been working since 1971 at the forefront of theatrical experimentation, political performance, and collective creation. 'Yuyachkani' is a Quechua word that means 'I am thinking, I am remembering'; under this name, the theater group has devoted itself to the collective exploration of embodied social memory, particularly in relation to questions of ethnicity, violence, and memory in Peru. The group is comprised of seven actors (Augusto Casafranca, Amiel Cayo, Ana Correa, Débora Correa, Rebeca Ralli, Teresa Ralli, and Julián Vargas), a technical designer (Fidel Melquíades), and an artistic director (Miguel Rubio), who have made a commitment to collective creation as a mode of theatrical production and to group theater as a life style. Their work has been among the most important in Latin America's so called 'New Popular Theater,' with a strong commitment to grass-roots community issues, mobilization, and advocacy. Yuyachkani won Peru's National Human Rights Award in 2000. Known for its creative embrace of both indigenous performance forms as well as cosmopolitan theatrical forms, Yuyachkani offers insight into Peruvian and Latin American theater, and to broader issues of postcolonial social aesthetics.
Credits: Grupo Cultural Yuyachkani, producer ; Ana Correa, director ; Fidel Melquíades, director ; documentary realized by Miguel Piedra ; Javier Sono, editor.
Credits: Augusto Casafranca, Ana Correa, Débora Correa, Rebecca Ralli, Teresa Ralli, Julián Vargas.