video
Interview with Jorge Vargas [videorecording].
Jorge Vargas Cullel and Alma Martinez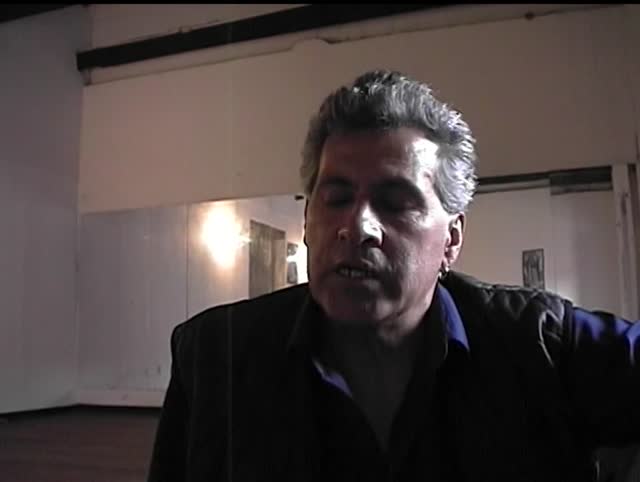 Title
Interview with Jorge Vargas [videorecording].
Author/Creator
Jorge Vargas Cullel and Alma Martinez
Restrictions/Permissions
Copyright holder:Alma R. Martinez, Contact information:Alma R. Martinez, +1-831-459-4918 (business), +1-831-359-1377 (fax), almamar@ucsc.edu
Description
1 videocassette of 1 (Digital Betacam) (62 min.) : sd., col. ; 1/2 in.; 1 videodisc of 1 (DVD) (62 min.) : sd., col. ; 4 3/4 in.
Notes
Summary: Interview with theater director and founder of street theater ensemble Teatro Taller de Colombia, Jorge Vargas, conducted by Chicano theater scholar Alma Martinez. In this interview, Vargas comments on his life in theater, his collaboration with theater director Mario Matallana, and their founding of Teatro Taller (www.teatrotallerdecolombia.com) in Bogota, Colombia. An ensemble rooted in popular theater, street theater, and circus, the project of Teatro Taller has been nourished by Vargas' and Matallana's many travels across the world, their participation in international theater festivals, and their collaboration with theater ensembles in Europe, Latin America and the US; their direct contact with Chicano theater has been particularly influential in Teatro Taller's consolidation of its own theatrical language. Committed to the exploration and dissemination of street theater in Colombia and abroad, Teatro Taller has developed international projects of artistic collaboration, such as the Escuela Internacional de Teatro Callejero y Circo ('International Street Theater and Circus School') and the Festival Internacional de Teatro Callejero al Aire Puro ('Open Air International Street Theater Festival').
Credits: Alma Martinez, producer, creator, videographer.
Credits: Jorge Vargas, interviewee ; Alma Martinez, interviewer.