video
Heavy nopal [videorecording]
Astrid Hadad and Tarzanes (Musical group)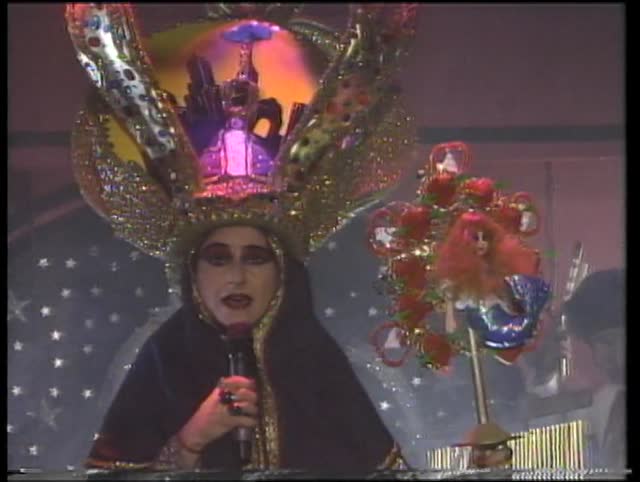 Title
Heavy nopal [videorecording]
Author/Creator
Astrid Hadad and Tarzanes (Musical group)
Restrictions/Permissions
Copyright holder:Astrid Hadad, Contact information:+ 52 (55) 56 04 66 15 (business), http://www.astridhadad.com
Description
1 streaming video (10 min.) : sd., col.
Notes
Summary: This video documentation shows a selection of Astrid Hadad and Los Tarzanes' songs. In 'Heavy Nopal,' Astrid uses Mexican iconic references, like the cactus, the rock, the pyramid, and the tequila bottle. These elements are not just scenery, but they appear also on Hadad's own body, which so becomes a human, mobile stage, and also an altar. From the calla lilies to the extremely complex surprise-multi-purpose outfits, to the innumerable ornaments, 'rebozos,' virgins of Guadalupe, guns, and common places in the essence of Mexico, Astrid Hadad and her Tarzanes transport the audience through several levels of iconography. Through this iconography, Hadad offers different meanings for both the female body and the Mexican political body.
Summary: Astrid Hadad is a vocalist and performance artist from Mexico. The term 'heavy nopal' refers to the Mexican cactus distilled to make tequila and is how Hadad describes her style of performance. Her shows follow the format of a cabaret, in which Hadad dazzles her audience with stunning vocals and elaborated costumes. She appropriates iconic images in Mexican culture, straps them to her body, and walks onstage to reconfigure their meanings. Through her voice and her body, Hadad challenges to her audience to adopt her system of cultural processing. Most of her work challenges cultural norms pertaining to gender roles in Mexican society. She also addresses issues of US neo imperialism. Hadad writes, produces, and promotes her own work.
Credits: Astrid Hadad, protagonist ; Los Tarzanes, musicians.