video
La nostalgia del quinqué
Teresa Hernandez and Producciones Teresa.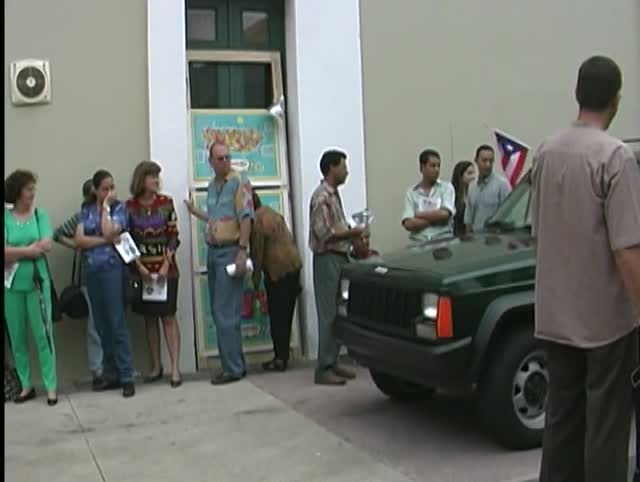 Title
La nostalgia del quinqué
Author/Creator
Teresa Hernandez and Producciones Teresa.
Restrictions/Permissions
Access is open to all web users, Copyright holder:Teresa Hernández, Contact information:+1-787-632-6652 (business), tu.infarto@gmail.com, amargada.optimista@gmail.com, http://www.facebook.com/CorajeII, http://www.vimeo.com/teresanoinc
Description
1 online resource (1 video file of 1 (digital Betacam) (62 min.)) : sound, color.; 1 online resource (1 video file of 1 (video file) (62 min.)) : sound, color.
Notes
Summary: Teresa Hernández is a Puerto Rican stage artist. Since 1987 she has written, directed and performed contemporary theater and dance, both in Puerto Rico's commercial and experimental art scenes. Teresa's creative projects are characterized by a consistent eschewing of traditional artistic categories. Theater, dance, performance, dramatic text, movement, costumes, video and everyday objects are juxtaposed and confronted, placed in a liminal space where notions of precariousness are explored and celebrated. "La nostalgia del quinqué ... una huida" explores and exposes the anxieties of everyday life in Puerto Rican society, transversally investigating issues of gender, class and race. A series of tableaux vivants of the "Puerto Rican Family" shows a stereotypical version of the folkloric peasant family ("jíbaros") from the "literatura costumbrista" (dealing with the transit form a rural society to an industrial, urban one) in a tragicomic clash of anachronisms, self-inflicted bigotry and partisan politics, negotiated in a desperate juggle of contrasting realities, evasion, euphemisms and denial that evidence the identity crisis of Puerto Rican society. These tableaux perform an antiphonal relationship to three "sister" characters through which Hernández exposes her take on Puerto Rican identity crisis and colonialism: Lic. Perdóname (a district representative), Pragma la continental (with her self-help lecture inviting Puerto Ricans "to climb and to progress") and Perpetua (a sensual "Pan-Latin" singer), who, with the help of their assistant Lamento, unveil the political, socio-historic and ethno-cultural complexities of "the Puerto Rican
Summary: condition."
Credits: Teresa Hernández, producer, director, concept, and text ; Producciones Teresa, no inc., producer.
Credits: Teresa Hernández, Javier Cardona, Magali Carrasquillo, Kairiana Núñez, Patricia Dávila.