video
Artist Roundtable [videorecording] : Urban Interventions
Hemispheric Institute of Performance and Politics. and Hemispheric Institute Encuentro (9th : 2014 : Montreal, Canada).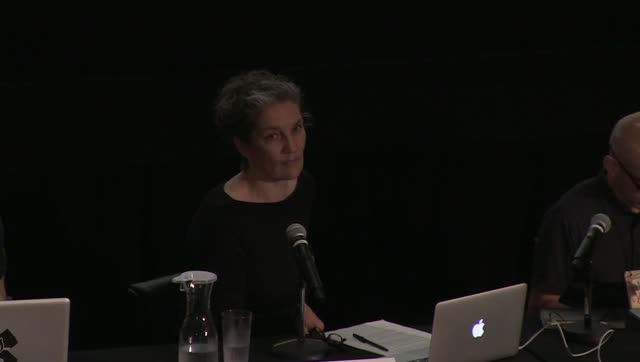 Title
Artist Roundtable [videorecording] : Urban Interventions
Author/Creator
Hemispheric Institute of Performance and Politics. and Hemispheric Institute Encuentro (9th : 2014 : Montreal, Canada).
Restrictions/Permissions
Copyright holder:Hemispheric Institute of Performance and Politics, Contact information:20 Cooper Square, Fifth Floor, New York, NY 10003, U.S.A., +1-212-998-1631 (business), +1-212-995-4423 (fax), hemi@nyu.edu, http://www.hemisphericinstitute.org
Description
streaming video (64 min., 26 sec.) : sd., col.
Notes
Summary: Grayson Earle is a member of The Illuminator - an art collective that emerged from Occupy Wall Street in New York City. Armed with a powerful projector, it supports the 99% by beaming messages of solidarity and staging political interventions in NYC and beyond. This 'spectacularization machine' draws people into a space where a new kind of conversation can take place.
Summary: Helene Vosters is an artist and scholar whose work explores issues of violence and the role of performance and aesthetic practices in mobilizing resistance. Helene's durational counter memorial meditations include Impact Afghanistan War; Unravel: A meditation on the warp and weft of militarism; and Flag of Tears: Lament for the stains of a nation.
Summary: Hector Canonge is an interdisciplinary based in New York City. His work incorporates the use of new-media technologies, physical environments, cinematic and performance art narratives to explore issues related to construction of identity, gender roles, and the politics of migration. His work has been presented in the Americas, Europe, and Asia.
Summary: Eleonora Fabião is a performer and performance theorist. Professor of the Universidade Federal do Rio de Janeiro, she holds a PhD in Performance Studies (NYU). Since 2008 she performs in the streets of urban centers and in 2011 received the Prêmio Funarte Artes na Rua.
Summary: Shauna Janssen (Ph.D.) is an independent curator based in Montreal. She is the founder of Urban Occupations Urbaines, a research and curatorial platform that engages artists, communities and the public in creative and critical responses to contested spatial conditions within the built environment.
Summary: The Hemispheric Institute's 9th Encuentro, held at Concordia University in Montréal, Canada, sought to explore the multiple valences of the term MANIFEST! How are performances mobilized and syncretized in civic, community, and cultural contexts to create manifold forms of political expression? How do public, theatrical events produce 'evidence' that manifests ideas otherwise invisible, hidden, or unspeakable? What new manifestations, manifestos, festivals, and manifs emerge via our changing visions of political spaces, intellectual arenas, and the everyday street? The 2014 Encuentro invited artists, activists, and scholars to engage with and investigate the aesthetic, social, and choreographic techniques that transform political ideas into collective images, through actions, embodied utterances, and ways of being. Such questions resonated in the host city of Montréal, where la manifestation has a rich and ongoing history.
Credits: Victor Bautista, video editor.
Credits: Grayson Earle, Helene Vosters, Hector Canonge, Eleonora Fabião, presenters; Shauna Janssen, moderator.