video
Faust/gastronome.
Richard Schechner 1934-, Sheldon Deckelbaum, Ralph Denzer and East Coast Artists.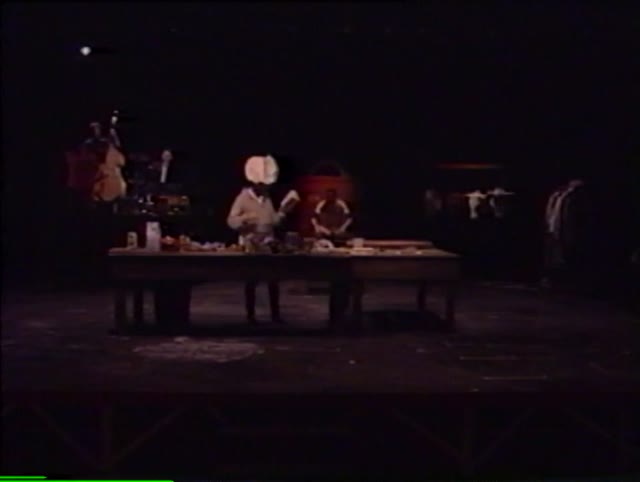 Author/Creator
Richard Schechner 1934-, Sheldon Deckelbaum, Ralph Denzer and East Coast Artists.
Restrictions/Permissions
Access is open to all web users, Copyright holder:Richard Schechner, Contact information:Richard Schechner, 1 Washington Square Village, 1 U, New York, NY 10012, U.S.A., rs4@nyu.edu
Description
1 online resource (2 video files of 2 (video file) (120 min. : part A, 60 min. ; part B, 60 min.)) : sound, color.; 1 online resource (2 video files of 2 (digital Betacam) (120 min.)) : sound, color.
Notes
Summary: Richard Schechner's East Coast Artists bring this foundational Western myth forward to the end of the 20th century with Faust as a cook-alchemist. Food preparation and consumption is the ruling metaphor for the destructive appetites of Western expansion culminating in both the Nazi crime of genocide and the post-industrial excesses of globalization and genetic manipulation. Schechner and his colleagues rework the story. Mephistopheles played by a woman dressed as a man but not disguising her 'actual' gender is assisted by Hitler, also played by a woman. Part One of 'Faust/gastronome' draws heavily on Goethe, tracing Faust's seduction of Gretchen (aided by Mephistopheles) and his abandoning her to her death. A considerable portion of the dialogue is Goethe's, performed in German. Part Two Schechner describes as a 'tragedy of development.' Here Faust heads the 'Fist Group' of corporations involved in genetic engineering and global exploitation.
Summary: Just before his death and damnation, Faust meets Gretchen who has come to seek him out and help bring him to hell. At one point, Hitler's architect, Albert Speer, appears on a talk show justifying World War II and the Holocaust. Later, Faust and a neo-Nazi teenage appear on the same show. The set features three sturdy wooden tables used in many configurations to contain the action. On a platform upstage, composer Ralph Denzer leads a small jazz ensemble. Richard Schechner is a theater director, performance theorist and university professor known for being one of the founders of the academic discipline of Performance Studies at Tisch School of the Arts, New York University. Schechner combines his work in anthropology with innovative approaches to performance of all kinds including ritual, drama, environmental theater, political rallies, dance, music, etc.
Summary: In order to consider how performance can be understood not just as an object of study, but also as an active intellectual-artistic practice. He is the editor of 'TDR: The Journal of Performance Studies.' His books include 'Environmental Theater, ' 'The Future of Ritual, ' 'Performance Theory, ' 'Between Theater and Anthropology' and 'Performance Studies: An Introduction.' As of 2007, his books have been translated into 14 languages.
Credits: Richard Schechner, producer, director, writer, adaptation ; East Coast Artists, producer ; Sheldon Deckelbaum, assistant director ; inspired by medieval 'Faustbuch', Christopher Marlowes 'Dr. Faustus', Johann Wolfgang von Goethes 'Faust', and Charles Gounods opera 'Faust' ; Ralph Denzer, composer ; Annee Vitiello, stage manager ; Chris Muller, environment ; Russel Champa, lighting ; Constance Hoffman, costumes.
Credits: Jeff Rickets (Faust), Rebecca Ortese (Mephistopheles), Shaula Chambliss (Gretchen), Ulla Neuerburg (Hitler), David Letwin (Albert Speer), Dan Berkey (Maria), Vernice Miller (Talkshow Host), Drew Barr, Frank Wood ; Ralph Denzer (musician), Michelle Kinney (musician).