video
Trasnocheo for José [videorecording]
Hemispheric Institute of Performance and Politics. and Hemispheric Institute Encuentro (9th : 2014 : Montreal, Canada).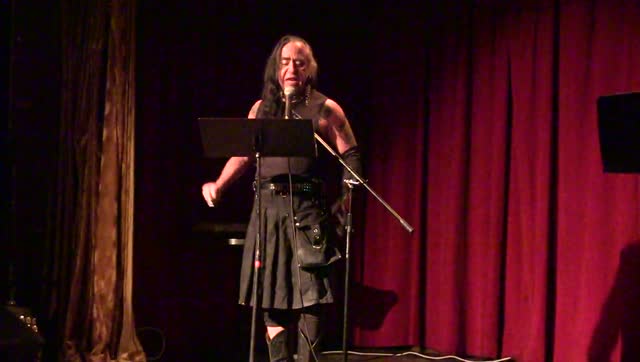 Title
Trasnocheo for José [videorecording]
Author/Creator
Hemispheric Institute of Performance and Politics. and Hemispheric Institute Encuentro (9th : 2014 : Montreal, Canada).
Restrictions/Permissions
Copyright holder:Hemispheric Institute of Performance and Politics, Contact information:20 Cooper Square, Fifth Floor, New York, NY 10003, U.S.A., +1-212-998-1631 (business), +1-212-995-4423 (fax), hemi@nyu.edu, http://www.hemisphericinstitute.org
Language
English, Spanish
Description
streaming video (86 min., 49 sec.) : sd., col.
Notes
Summary: Ann Pellegrini teaches Performance Studies & Religious Studies at NYU, where she also directs the Center for the Study of Gender & Sexuality. Recent books include Secularisms (co-editor Janet Jakobsen) & 'You Can Tell Just By Looking' and 20 Other Myths About LGBT Life and People (coauthors Michael Bronski & Michael Amico). She enjoys show tunes.
Summary: Jess Dobkin is an artist whose work is presented at museums, galleries, theaters, and public spaces internationally. She teaches performance as a Sessional Instructor, and is a Fellow at the Centre for Sexual Diversity Studies at the University of Toronto. She's also an Artist in Residence at the Theatre Centre in Toronto where she is currently creating a new project.
Summary: L.M. Bogad teaches tactical performance at UC Davis, is cofounder of the Clown Army, and author of Electoral Guerrilla Theatre and COINTELSHOW. He has led workshops and performed recently at SFMOMA, in revolutionary Cairo, in George Orwell Square, and in a squatted military base in Barcelona. He is the world's best, worst, and only Economusican.
Summary: Lola von Miramar (the drag alter ego of Lawrence La Fountain-Stokes) is an entertaining, over the top Puerto Rican society lady who loves poetry and cooking. She burst into cyberspace in a series of bilingual Feast of Fun drag queen cooking videos in 2010 and has performed in Argentina, Mexico, Puerto Rico, and the United States.
Summary: Nao Bustamante is a multi-disciplinary artist and long time collaborator of the Encuentro. In 2013, Nao was awarded the CMAS-Benson Latin American Collection Fellowship and an Award from the Kindle Foundation. Her art is in the Kadist Collection and the Hemispheric Institute Digital Video Library. She professes at Rensselaer Polytechnic Institute.
Summary: Alejandro Rodriguez is Lady Quesa'Dilla. A Chican@ from the Texas border, they are a solo performer and drag queen. Their solo performance, The Brown Queen, debuted in NYC and has been performed in Texas and Chiapas. They work as a teaching artist, and at the LGBT Community Center in Manhattan. They are also a member of the House of Bushwig.
Summary: Guillermo Gómez-Peña is a performance artist, writer, activist, radical pedagogue, and director of La Pocha Nostra. His performance work and 10 books have contributed to the debates on cultural diversity, border culture, and US-Mexico relations. In 2012, he was named Samuel Hoi Fellow by USA Artists and in 2014, he received the Fleishhacker Foundation's Eureka Fellowship.
Summary: The Hemispheric Institute's 9th Encuentro, held at Concordia University in Montréal, Canada, sought to explore the multiple valences of the term MANIFEST! How are performances mobilized and syncretized in civic, community, and cultural contexts to create manifold forms of political expression? How do public, theatrical events produce 'evidence' that manifests ideas otherwise invisible, hidden, or unspeakable? What new manifestations, manifestos, festivals, and manifs emerge via our changing visions of political spaces, intellectual arenas, and the everyday street? The 2014 Encuentro invited artists, activists, and scholars to engage with and investigate the aesthetic, social, and choreographic techniques that transform political ideas into collective images, through actions, embodied utterances, and ways of being. Such questions resonated in the host city of Montréal, where la manifestation has a rich and ongoing history. Trasnocheo for José was a special evening of Trasnocheo performances in loving memory of Professor José Esteban Muñoz. Curated by Tavia Nyong'o, Jack Halberstam, and Macarena Gomez-Barris, the evening featured performances by some of José's closest friends and collaborators, and was emceed by Carmelita Tropicana.
Credits: Tavia Nyong'o, Jack Halberstam, Macarena Gomez-Barris, curators; Victor Bautista, video editor.
Credits: Ann Pellegrini, Alejandro Rodriguez, Guillermo Gómez-Peña, Jess Dobkin, L.M. Bogad, Lola von Miramar, Nao Bustamante, performers; Carmelita Tropicana, Emcee.