video
Interview with Mapa Teatro [videorecording]
Rolf Abderhalden, Heidi Abderhalden, Diana Taylor 1950-, Mapa Teatro. and Hemispheric Institute of Performance and Politics.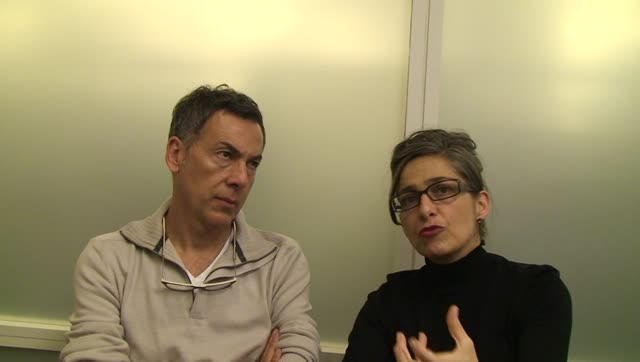 Title
Interview with Mapa Teatro [videorecording]
Author/Creator
Rolf Abderhalden, Heidi Abderhalden, Diana Taylor 1950-, Mapa Teatro. and Hemispheric Institute of Performance and Politics.
Restrictions/Permissions
Copyright holder:Mapa Teatro Laboratorio de Artistas, Contact information:Rolf and Heidi Abderhalden, Carrera 7 Nº 23-08, Bogotá, Colombia, +57-1-284-4899 (business), +57-1-599-6795 (fax), info@mapateatro.org, http://www.mapateatro.org
Description
streaming video (39 min., 49 sec.) : sd., col.
Notes
Summary: Interview with Rolf Abderhalden and Heidi Abderhalden, founders and directors of Mapa Teatro, conducted by Diana Taylor, founding director of the Hemispheric Institute of Performance and Politics. This interview is focused on the production, organization, theoretical conceptualization, and the experience of the project 'Witness to the Ruins,' created by Mapa Teatro in collaboration with former inhabitants of the neighborhood Santa Inés del Cartucho, Bogotá. The conversation discusses the notion of 'archive' propelled by this project, which has become a mobile memory for the city. Mapa Teatro's work subverts and questions the inflexible coherence that an archive usually imposes to memory. During the gentrification process of Bogotá, El Cartucho's human side was forgotten under the idea of urban progress; Mapa Teatro's work intends to recover the memories of the citizens evicted from their neighborhood, emphasizing the role of the body as the space where remembering and forgetting become a present experience. In this way, body and presence remove themselves from the archive, and become the living voice of memory.
Summary: One of the foremost artistic companies in Colombia, Mapa Teatro (www.mapateatro.org) has been producing theater, performance and art installation projects since 1984. Founders and directors, Rolf and Heidi Abderhalden have created a wide ranging repertoire of theater, opera, mixed-media performance, and site-specific installation. Their work proposes richly textured visual metaphors in which they consider often complex psychological, social and political relationships. Committed to experimentation, and less interested in the actor as an 'agent of fiction,' they describe their project as 'a laboratory of social imagination,' that offers a space for presenting community issues and human concerns in media and performance. This combination of real-life situations and sites along with highly stylized aesthetic staging produces a tension between real action and (re)presentation. Mapa Teatro draws from live events captured on video such as the demolition of a neighborhood in Bogotá, ritual practice, and texts that explore the relationship of postmodern subjects, myth and metaphor. Mapa Teatro has performed by commissions, festivals and collaborative projects world-wide.
Credits: Rolf Abderhalden , Heidi Abderhalden, interviewees ; Diana Taylor, interviewer.