video
Infarto [videorecording].
Teresa Hernandez and Producciones Teresa.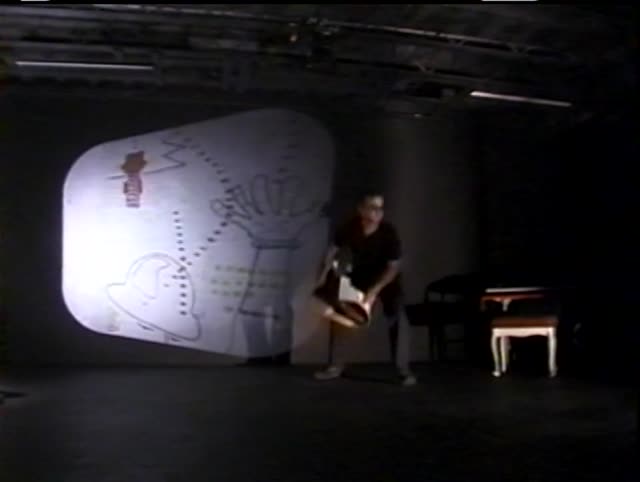 Title
Infarto [videorecording].
Author/Creator
Teresa Hernandez and Producciones Teresa.
Restrictions/Permissions
Copyright holder:Teresa Hernández, Contact information:+1-787-632-6652 (business), tu.infarto@gmail.com, amargada.optimista@gmail.com, http://www.facebook.com/CorajeII, http://www.vimeo.com/teresanoinc
Description
1 videocassette of 1 (Digital Betacam) (62 min.) : sd., col. ; 1/2 in.; 1 videodisc of 1 (DVD) (62 min.) : sd., col. ; 4 3/4 in.
Notes
Summary: Teresa Hernández is a Puerto Rican stage artist. Since 1987 she has written, directed and performed contemporary theater and dance, both in Puerto Rico's commercial and experimental art scenes. Along with choreographer Viveca Vázquez, she directs and administers the Taller de Otra Cosa, Inc., a nonprofit organization committed to the development and production of experimental dance and performance projects. As a solo artist, she produces her work since 1991 through her organization "Producciones Teresa, no inc.". She also offers workshops, talks and performance demonstrations for high school and college students. Teresa's creative projects are characterized by a consistent eschewing of traditional artistic categories. An excellent example and exploration of her experimental, alternative work is "Infarto" ("Heart Attack"), where theater, dance, performance, dramatic text, movement, costumes, video, animation, projections, music and everyday objects are juxtaposed and confronted, placed in a liminal space where notions of precariousness are explored and celebrated. Along with fellow experimental performers Eduardo Alegría and Yamil Collazo, Teresa exposes the struggles, anxieties and exploits of being experimental artists in Puerto Rico. Forced migration, bigotry, lack of available spaces and proper funding, and the pressure to define their work within fixed boundaries of traditional art forms all pose a daily threat to artists, who metaphorically "infartan" due to these social, political and economic conditions. In turn, the artists celebrate precariousness, the unpolished work of art, the slippery path between disciplines, embracing affect and humor to assert publicly that their work is "a different kind of performance" : "lo mío es otro teatro".
Credits: Teresa Hernández, producer, director, overall concept ; Producciones Teresa, no inc., producer.
Credits: Teresa Hernández, Eduardo Alegría, Yamil Collazo.