video
Flyin' West [videorecording]
Pearl Cleage, Roberta Uno 1956-, Rebecca Frank and New WORLD Theater.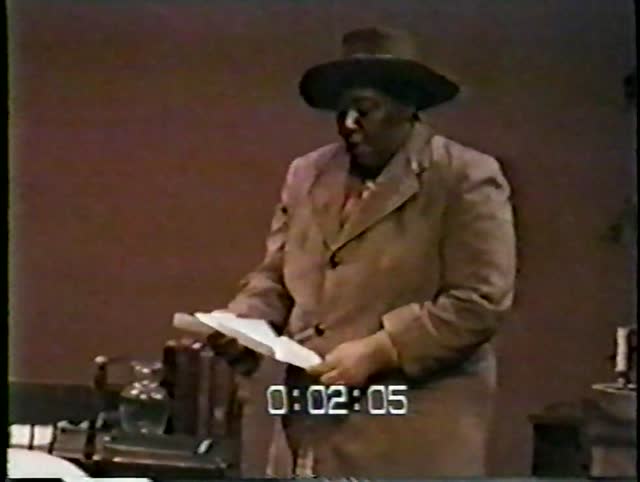 Title
Flyin' West [videorecording]
Author/Creator
Pearl Cleage, Roberta Uno 1956-, Rebecca Frank and New WORLD Theater.
Restrictions/Permissions
Copyright holder:University of Massachusetts Amherst c/o Dennis F. Conway, Contact information:Dennis F. Conway, scua@library.umass.edu
Description
streaming video (142 min., 29 sec.) : sd., col.
Notes
Summary: 'Flying West,' written by Pearl Cleage and directed by Roberta Uno, is the story of a small group of African-American women whose lives changed when they decide to go to the West and settle in a new, rough region. In this encounter with a new environment, themes such as determination, racism, interracial marriage, feminism, pride, and freedom arise to offer a reflection upon how individuals, families, and communities survive together. Among the difficulties of everyday life, there is power in the fact of being able of knowing who we are and where we go, as the women in the play affirm their identity as 'three Negro women.' The sisters Sophie, Fannie, and Minnie, and their neighbor Miss Leah, have to empower each other, especially when Minnie suffers domestic violence from her husband. When the couple's abusive relationship becomes more and more violent, and when this violence threatens all the women's well-being, they have to decide how to maintain their freedom and their sisterhood. This video documentation also features a pre-performance discussion with the cast.
Summary: From 1979-2009, the New WORLD Theater worked at the intersection of artistic practice, community engagement, scholarship, and activism toward a vision of a 'new world' - one that broke the confines of multiculturalism and was an artistic harbinger of America's shifting demographics. From a geographic 'outpost' in New England, New WORLD Theater evolved from a community organizing project and the Northeast point on a theater touring compass, to a protective studio to hone new work, a site of international intersections from South Africa to the South Bronx, and the home of inspired and rigorous collaborations with Western Massachusetts youth. New performance work development at New WORLD defied the conventional theater play lab as ghetto for artists of color; artists were met where they wanted to be in the imagining of new approaches, methods, and production. One of New WORLD Theater's artistic legacies is Project 2050, an early call to imagine the U.S. demographic shift, with people of the future - youth, in equal collaboration with artists and scholars.
Credits: Mary Haddad, stage manager ; Anita Henderson, assistant stage manager ; Vanessa James, set designer ; John Howard, lighting designer.
Credits: Toks Olagundoye, Celia O. Hilson, Timothy E. Blake, Ronald Glenn, Ingrid C. Askew, Amy Auzenne, performers.