video
You don't look like-- [videorecording].
Javier Cardona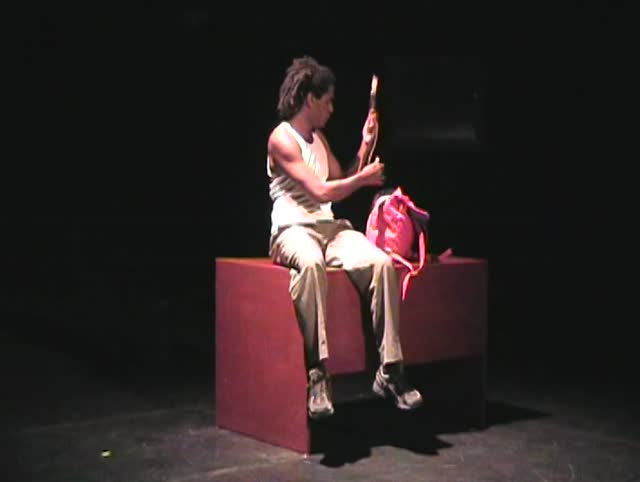 Title
You don't look like-- [videorecording].
Author/Creator
Javier Cardona
Restrictions/Permissions
Copyright holder:Javier Cardona, Contact information:xabielpr@gmail.com
Description
1 videodisc of 1 (DVD) (21 min.) : sd., col. ; 4 3/4 in.; 1 videocassette of 1 (Digital Betacam) (21 min.) : sd., col. ; 1/2 in.
Notes
Summary: Javier Cardona is a Puerto Rican dancer/actor and pedagogue. Trained on Puerto Rico within the graphic-dramatic experimental Project Los Teatreros Ambulantes de Cayey of the University of Puerto Rico under the artistic direction of pedagogues/artists Rosa Luisa Márquez and Antonio Martorell, Javier has also worked and trained with renowned international theater artists like Miguel Rubio (Grupo Cultural Yuyachkani, Peru), Osvaldo Dragún (Argentina, EITALC), Augusto Boal (Theater of the Oppressed, Brazil), and Peter Schumman (Bread and Puppet Theater, United States). Through his experiences in theater, Javier explores experimental dance, training with Gloria Llompart and Viveca Vázquez in Puerto Rico, as well as dancing with choreographers Sally Silvers and Jennifer Monson in New York City. He has worked in community-based theater educational programs, and is a member of the Taller de Otra Cosa, a collaborative cultural organization that promotes artistic educational programs in communities and the development of experimental performing arts events. As a choreographer and director, Javier explores issues of gender and race, rooted in his experiences as an Afro Puerto Rican queer artist working in Caribbean, Latin American and American societies. His one-person dance/theater performance 'You Dont Look Like...', created in 1996, deals with themes of race and identity in Puerto Rico, paying special attention to racial stereotypes pervasive in popular culture and the entertainment industries. Issues of violence, discrimination and racism experienced by Afro Caribbeans are dealt with through the exploration of the relationship between bodies and politics of representation, here performed through experimental juxtapositions of photographs, dance, anecdotes, and direct interaction with the audience.
Credits: Javier Cardona, producer, director, writer, choreographer ; Miguel Villafañe, photographer ; Gisela Rosario, video.
Credits: Javier Cardona.