video
Amarillo, azul y blanco.
Manuel Mendive 1944-, Juan Delgado and Ramon Garcia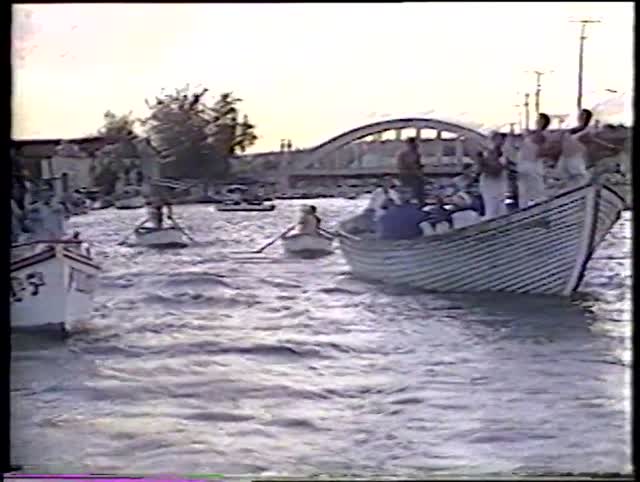 Title
Amarillo, azul y blanco.
Author/Creator
Manuel Mendive 1944-, Juan Delgado and Ramon Garcia
Restrictions/Permissions
Access is open to all web users, Copyright holder:Manuel Mendive, Contact information:Manuel Mendive Hoyo, Lomas de la Peregrina, Finca Manto Blanco, Tapaste, San José de las Lajas, Habana, Cuba, +53-6486-1142 (business), +53-6486-1325 (fax), mendiveashofunfun@yahoo.es, http://www.mendive.cult.cu
Description
1 online resource (1 video file of 1 (digital Betacam) (18 min.)) : sound, color.; 1 online resource (1 video file of 1 (video file) (18 min.)) : sound, color.
Notes
Summary: 'Amarillo, azul y blanco, ' a video by Ramón García, documents a traveling, public performance art event created by renowned Cuban artist Manuel Mendive. Brightly-painted dancing bodies journey through Lenin Park (Havana), San Juan river (Matanzas) and Oasis Hotel (Varadero) in a performance of embodied syncretism, a dance of colors - 'yellow, blue and white, ' the title of the piece - echoing both the basic language of visual artists and the distinctive colors of Santería deities - the colors of Ochún, Yemayá and Changó. Mendive blends significant elements of Afro-Cuban culture, creating a personal universe intimately linked to his particular worldview, one that establishes organic connections between nature and religion, African ancestry and Caribbean everyday life, a symphony of syncretism that, like all of Mendive's art, reflects a life of commitment to African spiritual practices, a commitment that became more intense after his first visits to Africa in the early 1980s. Manuel Mendive Hoyo (www.mendive.cult.cu) is perhaps the single most important Cuban artist today. Mendive, a major exponent of contemporary 'Afro-cubanismo' in the visual arts, was born in 1944 into a Santería-practicing family. He graduated from the prestigious Academia de Artes Plásticas San Alejandro in Havana in 1962 with honors in sculpture and painting. He held his first one-man show at the Center of Art in Havana in 1964. Since then he has exhibited in some of the most important international venues. The Cuban booth at the XLII International Biennial Exhibition of Modern Art in Venice in 1988 was completely dedicated to his works. His work can be found in Museums and galleries in many countries including the Museo Nacional de Bellas Artes in Havana, the Musee d'Art Moderne in Paris; as well as museums in
Summary: Russia, Somalia, Congo, Norway, Denmark, Finland and the U.S and other countries. He is well-known not only for his painting and soft sculpture, but for his performance pieces in which he paints dancers' naked bodies and creates theatrical backdrops and environments. Representing an important strain of Cuban life, Mendive's multi-media work reflects his syncretic take on religion, philosophy, ethnography, art and dance.
Credits: Manuel Mendive, producer, creator ; Juan Delgado, artistic production, assistant director ; Ramón García, video director ; Rafael Solís, Oscar Valdés, photography ; Gabriel Daniel, Rubén de la Torre, editors ; Diego Figueroa, Ricardo (Tato) Pérez, Alexei Oms, sound ; Alberto Miranda, postproduction ; Marco Antonio Abad, credits ; Miguel González, transportation.
Credits: Musicians: Juan Cisneros, Santiago Nani, Grupo Proyecto Espiral, José Salpean, Eric Bell, Ober Noa, Julio Inerariti, Grupo Afrocuba (Matanzas), Francisco Zamora, Reynaldo Alfonso, Enrique Mesa, Reynaldo Gobel, Pedro Aballi, Eddy Espinosa, Luis Cancino, Ramón García, Bárbaro Aldazabal, Orquesta Miguel Faildes (Matanzas).
Credits: Manuel Mendive ; Silvia Bernabeu, Lázaro García, Felipe Ocanto, Lisbeth Flores, Rogelio Lorda (models) ; Zulima Echevarría, Teresita Dome, Danilo Pérez, Antonio Figueroa, Juan C. Gobel (dancers) ; Dolores Pérez, Sara Gobel, Regla Pérez, Bertina Aranda, Amparo Rodríguez, Hortensio Alfonso (chorus).